Chien-Ming Huang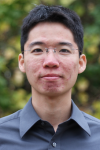 Address:
51 Prospect St, New Haven, CT 06511-8937
Chien-Ming Huang is a Postdoctoral Associate working with Dr. Brian Scassellati at Yale University. His research spans the fields of robotics and human-computer interaction with the mission to develop assistive robot systems to improve people's quality of life. In his Ph.D. research, Dr. Huang modeled and developed social behaviors and coordination mechanisms for robots to assist people in joint activities. His research contributes to the integration of robots into human environments to support daily tasks. 
Dr. Huang received his Ph.D. in Computer Science, supervised by Dr. Bilge Mutlu, at the University of Wisconsin–Madison in 2015, his M.S. in Computer Science, supervised by Dr. Andrea Thomaz, at the Georgia Institute of Technology in 2010, and his B.S. in Computer Science at National Chiao Tung University in Taiwan in 2006.  In Spring 2013, he worked as a research intern, mentored by Dr. Takayuki Kanda, at the Intelligent Robotics and Communication Laboratory at ATR International in Japan.
Dr. Huang's research has mostly engaged with the HRI and RSS communities. His research has been awarded a Best Paper Runner-Up at RSS 2013 and has received media coverage from MIT Technology Review, Tech Insider, and Science Nation. During his Ph.D., Dr. Huang was selected to participate in CHI and ICMI doctoral consortia and the HRI Pioneers forum.