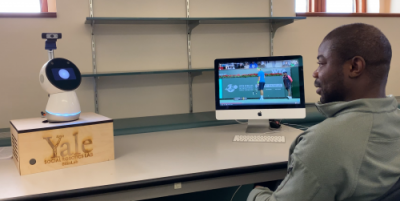 The National Science Foundation (NSF) has awarded a highly competitive $5 million grant for a project designed to build job skills for people with Autism Spectrum Disorder (ASD) with the use of various technologies, including a Yale-developed robot that helps workers stay on task.
The project, led by researchers at Vanderbilt University, brings together organizational, clinical and implementation experts with engineering teams. In addition to Yale's Brian Scassellati, the team includes researchers from Cornell University, Georgia Institute of Technology and Vanderbilt University Medical Center. The grant, made through NSF's Convergence Accelerator program, follows a successful $1 million, nine-month pilot grant to the same team, which produced viable prototypes and forged partnerships with employers.
The project is designed to address the job needs of people with ASD. Scassellati, the A. Bartlett Giamatti Professor of Computer Science & Mechanical Engineering & Materials Science, noted that while younger people on the spectrum benefit from many available services, they become ineligible for them once they turn 18. "And very little research is directed toward services for adults, but these are folks who have real needs," he said.
The researchers noted that 70,000 young adults with ASD leave high school each year, and face grim employment prospects. The estimated lifetime cost of supporting an individual with ASD and limited employment prospects is $3.2 million.  
"This is a critical but overlooked public health and economic challenge: how to meaningfully include individuals with ASD—a large, chronically unemployed and underemployed population," said Vanderbilt's Nilanjan Sarkar, the David K. Wilson Professor of Engineering, who leads the effort.
The project's researchers will address three themes: 1) individualized assessment of unique abilities and appropriate job-matching; 2) tailored understanding and ongoing support related to social communication and interaction challenges; and 3) tools to support job candidates, employees and employers.
Scassellati's work on the project focuses on the use of a social robot in the home to help manage job-related interruptions. Research has shown that it's particularly difficult for people with ASD to get back to their work after an interruption, especially one that involves social contact. The robot essentially acts as co-worker who occasionally asks the person questions related to work, but not to the particular task at hand.
"It creates these little interruptions so that people can get practice in switching from dealing with some social response and then going back to what they were focused on before," Scassellati said. "We're focusing on job skills and job-matching for the neurodiverse population, with the goal of making their transition to the workplace easier and helping them keep better jobs for longer."
In addition to the social robot, the project includes four other technologies:
An assessment system that integrates a wearable eye tracker, scene cameras and computer vision algorithms to produce a detailed record of a person's performance in visuospatial cognitive tasks;
A virtual reality-based job interview simulator that senses a user's anxiety and attention through wearable computing and provides feedback and coaching;
A collaborative virtual reality platform to assess and help team-building skills through peer-based and intelligent agent-based interaction;
A computer vision-based tool to assess non-verbal communication in real-world settings.
Several private-sector companies that employ people with ASD - Auticon, The Precisionists, Ernst & Young, and SAP, among them - have committed to using at least one of these technologies. Two other companies, Floreo and Tipping Point Media, will make their existing VR modules available for adaptation to the program. Microsoft, which has a long-standing interest in hiring people with ASD, is involved as well and provided seed funding and access to cloud services for technology integration.
The five technologies can be used separately or as an integrated system, and the work has broader potential beyond ASD to expand employment access. In the U.S. alone, an estimated 50 million people have ASD, attention-deficit/ hyper-activity disorder, learning disability or other neurodiverse conditions.
"A more diverse workforce benefits employers as well as individuals with neurodiverse conditions," Sarkar said. "These tools and technology will have an even larger impact in helping marginalized populations with meaningful employment."