Henny Admoni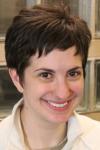 6th Year PhD Student, Computer Science
Henny is a PhD candidate in the Social Robotics Laboratory, where she creates and studies robots that interact closely with people. Henny's research focuses on how to use non-verbal communication, like eye gaze, to make human-robot interactions more effective and natural. She is also interested in how non-verbal social cues can create the appearance of animacy and intentionality in robots.
Henny holds a Masters of Science and a Master's of Philosophy, both in Computer Science, from Yale University. She also received a Bachelor's degree in Computational Cognitive Science and a Master's degree in Computer Science from Wesleyan University.
Henny has been awarded an NSF Graduate Research Fellowship to pursue her doctoral studies.
Research Interests
socially assistive robotics, human-robot interaction, non-verbal communication, animacy and intentionality, artificial intelligence, computational models of human cognition, developmental robotics
Personal
Henny enjoys rock climbing, hiking, and reading fiction.